Music + Community
Music Performance and Education For All
Music performance and education for all
Under the dynamic leadership of artistic directors Ellen Dickinson and David H. Connell, we gather together through our choruses, handbell choirs, and workshops to make beautiful music.
Founded in 2011, Music on the Hill has something for everybody. We offer educational workshops and social events, and our four ensembles perform six concerts each year, each with a diverse and thoughtful repertoire. We are supported by an active and diverse Board of Directors.
Join us and discover what makes our vibrant and joyful musical community so unique!
Our Mission
To encourage music performance and music education for all ages.
To foster the artistic growth of participants and strive for excellence.
To inspire and enrich the community with high-caliber musical offerings.
Location
WEPCO Complex
48 New Canaan Rd.
Wilton, CT 06897
Phone
203.529.3133
Email
Music on the Hill is a proud member of:
Please sign up for our email list to stay informed about news, events, and workshops from Music on the Hill!
Music on the Hill's ensembles meet on a project basis, allowing musicians to commit to a four to six week cycle of rehearsals at a time.
NEW in 2019! Music on the Hill's Community Children's Chorus is open to all children in grades two through eight. Click here for more information!
Rehearsals include music education, singing, rhythm reading, percussion, and group activities in a fun, focused environment.
Join us for rhythm, melody, and harmony! To join, please email ellen@musiconthehillct.org.

Each July, singers from across the region assemble for our Summer Chorus to perform a major choral work.
Summer Chorus is our largest ensemble and is open to all without audition.
If you've thought about joining us, Summer Chorus is a great time to start.
Festival Chorus is a 40-voice choir for experienced singers, and is open to all without audition.
Festival Chorus has performed major choral works, as well as themed concerts, all rooted in a love of singing.
The artistically enriching and challenging repertoire is enjoyed by new and experienced singers alike.
Chamber Chorus is a 16-voice professional vocal ensemble with a varied repertoire spanning the centuries.
Each year at their fall and spring concerts, their versatility of style delights and transports audiences.
To audition, please email info@musiconthehillct.org.
Jubilate Ringers is a skilled, amateur handbell ensemble, performing advanced repertoire and techniques.
Jubilate Ringers performs throughout the year including at the popular Sounds of the Season Christmas Concert.
To audition, please email info@musiconthehillct.org.
Join Us!
To join Summer Chorus, Festival Chorus, or Community Children's Chorus,
or to request an audition for Chamber Chorus or Jubilate Ringers,
please email info@musiconthehillct.org.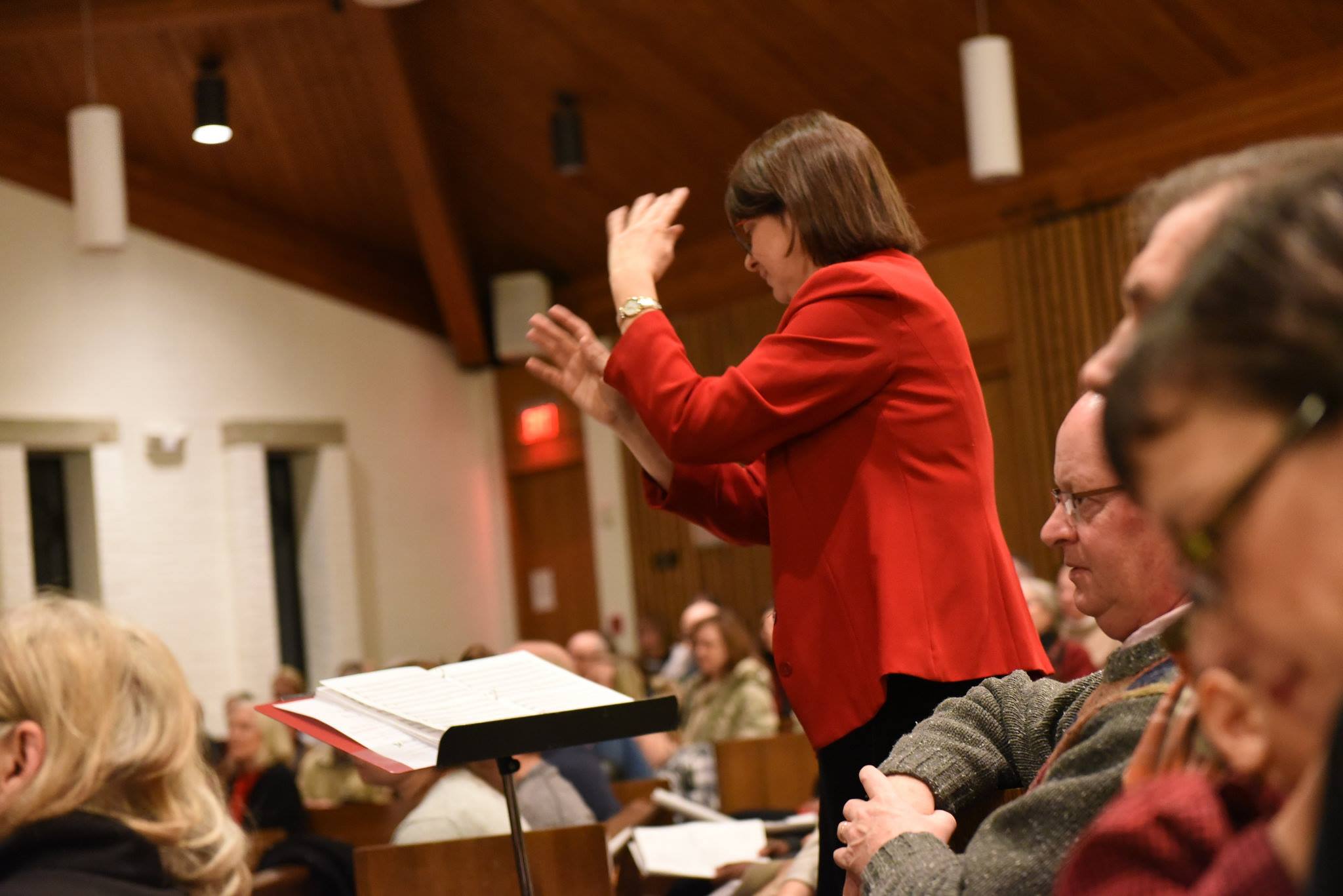 Ellen Dickinson has been the founding director of nine different ensembles, including the Jubilate Ringers (2006) and the Summer Chorus (2003), both now under the Music on the Hill umbrella. She was Director of Music at Norfield Congregational Church in Weston for 11 years. An active carillon recitalist and teacher, Ms. Dickinson is College Carillonneur at Trinity College in Hartford and director of the carillon program at Yale University.
Ms. Dickinson holds a B.A. in music from Yale College and the Master of Music in Organ Performance from the Yale School of Music and Institute of Sacred Music.
David H. Connell is Director of Music & Worship Arts at Norfield Congregational Church in Weston, and directs the Choral Music program at the North Carolina Governor's School West in Winston-Salem. Throughout the 1990s he taught at the Yale School of Music and directed the Yale Glee Club, touring across America and around the world. He was the founding director of the Yale Alumni Chorus, and led that group in tours of China, Russia, and Great Britain.
Dr. Connell holds the D.M.A. from Yale, having earned his B.Mus. at the Philadelphia College of the Performing Arts..